Call Today! 432-617-4200

Services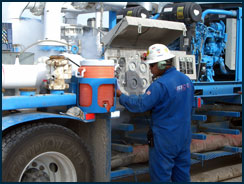 FloCO2's predominant services include CO2 fracturing, Enhanced Oil Recovery, and Huff n' Puffs, but we are fully capable of taking on new and innovative approaches to solving customer problems. Our state-of-the-art, high-powered equipment is built in-house and meets all safety requirements. Extensive personnel experience and a hands-on approach to seeking win/win solutions make FloCO2's reliability and adaptability superior to the competition.


Available Services
CO2 Fracturing – When injected in a liquid state using a conventional frac pump, it is one of the most effective and cleanest processes available to increase the production of your oil and gas.


Enhanced Oil Recovery – Our state of the art equipment is available to aid in pilot testing to pre-pipeline solutions for your EOR projects.


Huff & Puff – This method consists of three stages: injection, soaking and production. After CO2 is injected into a well, normally in its gas state, the well is then shut to allow the CO2 to dissipate and dissolve. Once it is determined that enough time has passed, production of that well begins.